SASSCAL PORTAL: Global Search
From ILMS-Wiki
Overview: Global Search
Global Search: search globally within all data categories (intern/extern)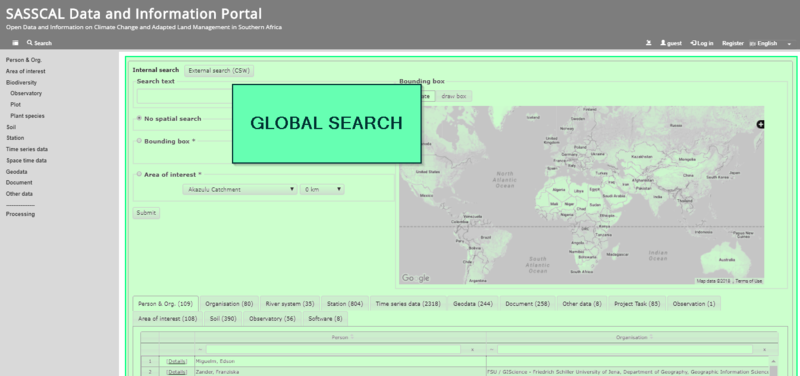 You can search within the internal data base or within in extern CSW Catalogues.
Internal Search
To search within the SASSCAL Portal data base, please press 'internal search' and choose between the searching methods:
Search text: Non-spatial search via text
Bounding Box: Create a bounding box in the map to do a spatial search. Use 'navigate' button to naviagte through the map and the 'draw' button to draw a bounding box.
Area of Interest: Filter the data for a Catchment/ Country/ Research Site etc. and a Radius to define your Area of Interest. To do so, please select one item of the drop-down menue.
After doing the respective steps, please press 'Submit'.

Your results get listed grouped in categories. If you select a single list entry, you get forwarded to the respective category tab.
//Note: If the resulting categories contain spatial information, a map is provided.
Search Example
Let's do a search for all available data in Northern Botswana
→ Spatial search in internal database is necessary: Select option 'Bounding Box' for searching.

Navigate on the map to your desired area. Press 'draw' in order to draw the bounding box. Now, press 'Submit' .
Your results for Northern Botswana, grouped by category. For example, 101 measuring stations were found in the selected area. Click on the Station sheet tab to see them.

As station data contain spatial information like their coordinates, a map is provided to show their location. In order to see the map, please click on the map button.
Filtering the Results
In general, you can filter your table view and refine your search results by following methods:
Choosing a subdivision from the sheet tabs. Every data category has different subdivisions.
Using the map, e.g. drawing a bounding box to refine your search results or select an entry directly.
Extern Search via CSW Catalogues
In order to search in Catalog Services for the Web (CSW), please select 'extern'. ....