SASSCAL PORTAL: Getting Started
From ILMS-Wiki
Starting the SASSCAL Portal
Open your web browser
Go to SASSCAL Data Portal
Register for a new user account here
After your account has been activated, please log in here
Now let's explore the menu!
Quick Menu Structure
The menu is subdivided into following functional sections:
User account settings → do user log in and manage account here
Global Search: considers all categories. Click on to use it.
Detailed Operations: search, browse, add, edit or export data within a certain category. Click on to show/hide this menu.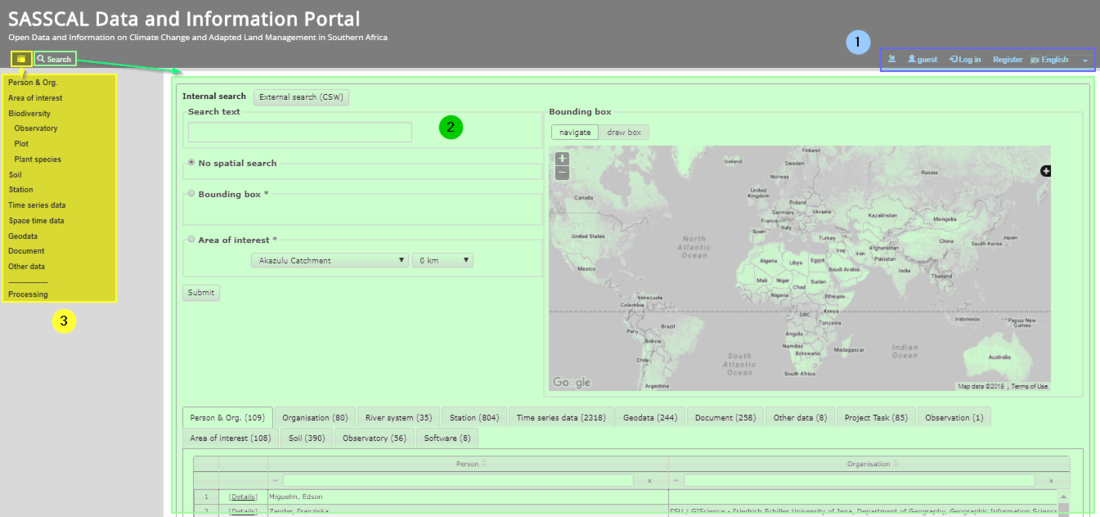 User Account Settings
Overview
Report: lists the latest activities in the SASSCAL Portal
Managing Account Data: Status and information about your account
User login
Register for a new account
Choose language
User Account
A user account is required for any data modification or in case restricted datasets shall be accessed. For most standard operations like data exploration and download, an user account is not needed.
Register for an account here.
Log in your account here.
Managing Account Data
Edit your user settings e.g. your account metadata by clicking on
: