SASSCAL PORTAL: Data Categories
From ILMS-Wiki
Data Categories Overview
In this section, common and specific functionalities of the data categories are presented.
Data categories overview: search/edit/view prefiltered data, which are sorted by category. In each data category in dataset overview, you have different functionalities depending on the data category and your user status.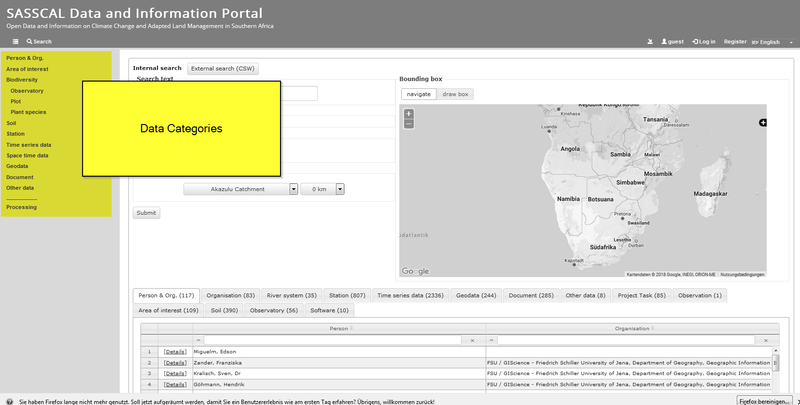 You can refine data search within a category by clicking on the requested category item. Automatically, a list of all available entries in this category is shown.
Example: We want to search for a certain measuring station. Click on category 'station' . In this example, 804 recorded stations were found.
Common Methods
Add New Entry
Click 'New' for adding a new entry.
Now fill out the fields. For text-based fields, there is a help information provided. To show them, please click on

.
.
If you are finished, please press

to add the entry.
Search by Text or List
In order to search directly, please select 'Search' . There are two methods available: selection list (default) with predefined key words or free text.
You can switch between the methods by clicking on 'Search with free text' or 'Search with selection list':

Please activate all checkboxes of fields that should be included as search criteria:


Now, please press

to start the search engine.
If you want to reset all fields, please press

.
Special Funtionalities
Certain data categories provide special methods related to their group:
Time Series: Export Data
Time Series: Analyse Data